Posted by Cory List on 2nd Oct 2014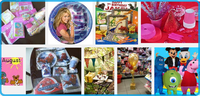 Starting a new business is tough because it involves a lot of work to get things going. There is so much to concern yourself with and building a market, a pool of customers, will be very difficult. Your business and any business for that matter relies on the existence of a market, so you need to work hard on bringing people to your business.
The following things are going to be of true value when building your business:
Twitter. In a space of 140 characters, it is quite surprising what Twitter is able to do, but its power is great. You can establish your own Twitter account, gather a number of followers and make constant updates to gain everyone's attention. You can also work on paying "well-followed" Twitter owners to create a buzz about you or work on connecting with celebrities who get a lot of attention from different people.
Facebook. Facebook has become a very significant in the social networking world. People spend a big chunk of their time online and much of this time is devoted to Facebook. As a business owner, you need Facebook to create a "page" and from it you can promote your business, put up ads and so forth.
YouTube. Nothing engages well with people than visual presentation. Through YouTube, you can use any videos you have (instructive, entertaining or informative) to get the attention of people. You can use videos to gain the right popularity you need to rise above your competitors.
Blogs. Setting up a website is good because you mark online territory in the most remarkable way possible. Within this website, you can also set up a blog, so that you can engage with your clients through articles. Make it well-written and information; provide it with all the details about the company, the services and the products, so that you can provide existing and potential clients with all that they need.
Advertisements. There are many venues where you can put ads out. You can release ads online, in print, radio, television, local newsletters and so forth. You can put out ads to get the attention of people who may become your clients, in the future.
Forums. A forum is a venue online that gives a chance for people to convene and talk amongst each other. They may be members-only pages that require a certain fee or they may be an open site dedicated to a specific subject. You can create an account in a forum and meet different kinds of people. In this place you can connect with potential clients and spread your reach quite generously.
Making a loud noise important when starting a business and this noise should clamour properly so that it resonates good news about your company. Increasing your visibility improves your chances of getting people to do business with you. When you build a company, no matter what this is, it should be your desire to be well known. It should be your desire to be on the spotlight, to bring people in and keep them there. Hopefully the methods described above will be worth your time.