Posted by Cory List on 13th Sep 2014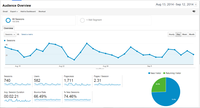 Setting up a website is not easy, more so if this page is an e-commerce website. Online businesses could be quite profitable but this only works well if the website is successful. Since traffic generally translates to profit, it should be your goal to bring people to your site through various means. Traffic means increased visibility and when you have a number of people getting into your site, there is a greater chance for you to generate business from any of them.
Generating traffic is not easy. When you publish your website and begin managing it, you will discover that the journey is going to be tough, but take note of the following:
Run a feasibility study. To be able to know whether or not your business will do well even before you set things up, you can run a feasibility study. You can research on the potential of the company you wish to establish to see if it is worth the trouble. Building a business involves a lot of risks but by doing a study, to begin with, you are given a foresight of what to expect.
Have patience. While there are overnight sensations that do well online, you cannot expect for things to be that way all the time. It will take some time but be patient to see things through. It could take a year to completely build your site to perfection, another year to build considerable traffic to the page and yet another year to generate profit. Sometimes results will come fast, so delight in these victories, but do not lose hope if it does not work out.
Study the competition. In business, you have to be ready to be in competition with other companies who are offering the same products. To successfully break barriers and get ahead, you will need to get to know your competition. You need to study what they do so you can find ways to overcome their achievements.